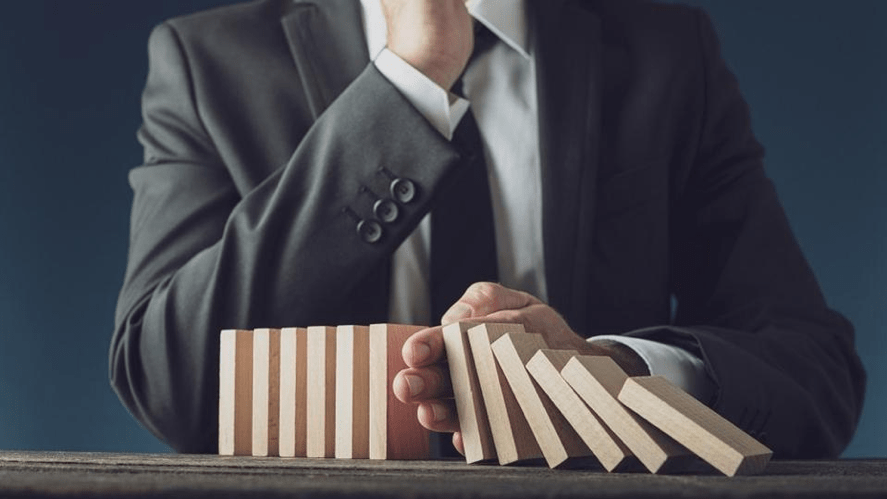 It might seem like an obvious decision for a business to reduce spending on marketing during a recession; however, that's the exact opposite of what a business should be doing right now! In the midst of this pandemic-induced recession, in order to retain your customers and maintain a recession-proof business, most experts advise companies to keep marketing. Brian Adgate of Forbes Magazine recently reported that "there have been a number of studies going back nearly one century that point out the advantages of maintaining or even increasing ad budgets during a weaker economy. Those advertisers that maintained or grew their ad spending increased sales and market share during the recession and afterwards."
Some companies that have made the choice to continue marketing during a recession? Amazon, Kellogg's, Pizza Hut, Taco Bell, and Toyota. Not only does marketing help businesses retain customers during a recession, it can, as competitors reduce spending, boost your brand's visibility.
Here are some tips on how to market during this recession:
Offer savings and deals. I recently saw a dry cleaner service that was offering 30% services; the pitch was "our process kills viruses, come get your dry cleaning done here for 30% off." Um. I'm taking my clothes there yesterday!
Communicate proactively with your customers. Let your clients know if you are changing your hours, if you have any new deals or products online, and any steps you are taking to avoid risk. Also, customers love to hear personal stories because it makes them feel more connected to you as a business owner. (Not too personal, obviously! Keep it classy.)
Take your services online. Stream your yoga classes or workout sessions. Move your therapy office into the virtual space. A hair stylist can create a video with tips about how to cut bangs or color those grey roots! Corporate events could be held online in such places as Facebook Live or Instagram Live. I recently saw a panel discussion that had been recorded on Zoom and then broadcast on YouTube! There are so many options, and many of them are viable, as people are hungry for connection, even if it is a virtual connection!! Why not try that podcast you've been wanting to experiment with but just haven't had the time to pursue it…now is the time.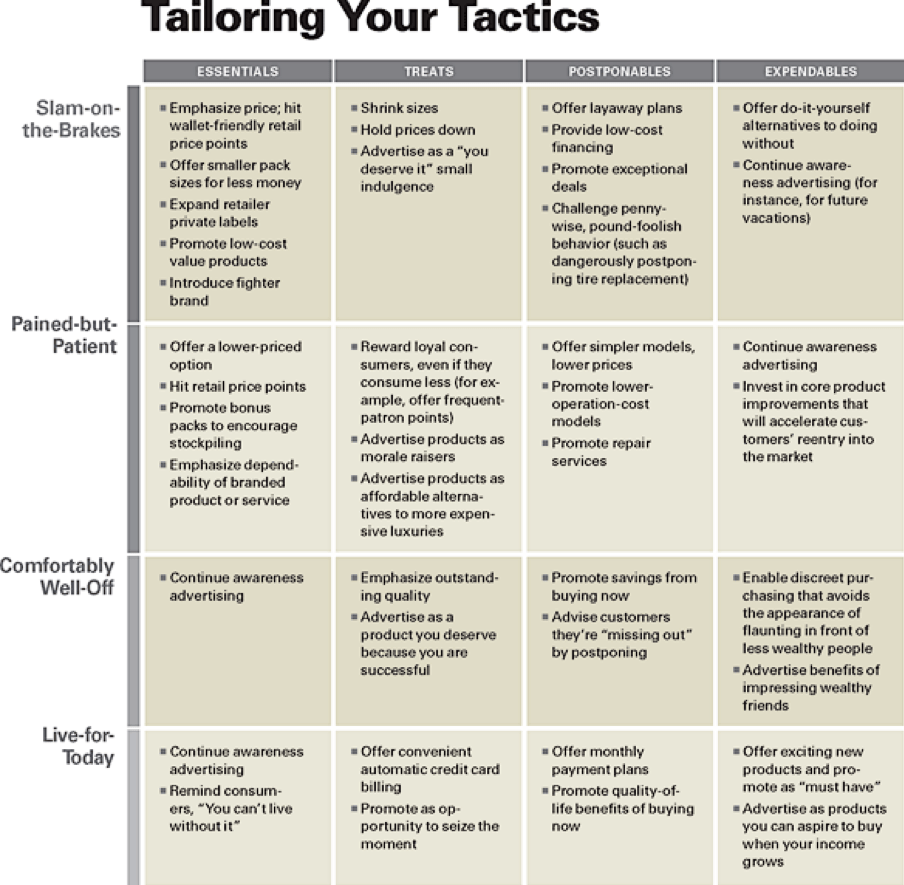 Understand recession psychology. In a recent article in the Harvard Business Review, "How to Market in a Downturn," writers John Quelch and Katherine E. Jocz identify three different types of "recession customers." 1.)  Slam-on-the-brakes. This customer is hit hard, feels vulnerable, and has therefore reduced their spending habits. 2.) Pained-but-patient. This type is optimistic and confident in their ability to maintain their standard of living, so while they do economize during downturns, they spend more than the slam-on-the-brakes customer. 3.) Comfortably Well-off. These consumers are in the top 5%. They easily maintain their status and do not change spending habits. 4.) The Live-for-today. Mostly millennial and younger, these consumers live in urban areas; they rent; they will spend money, especially on electronics, so long as they are employed. During a recession, these four different types of customers change their spending habits in very specific ways, on items like essential goods, treats, postponables, and expendables. When businesses understand how to market their products in order to meet consumer demands during a recession, that business is more likely to stay afloat, thrive even!

A boutique digital marketing firm nestled in the heart of Austin, Dremana Productions pride ourselves on the number of different things we offer. From web development to SEO Marketing to podcast production, from company blogs to cinematography and editing, whatever your marketing needs are right now, Dremana has the tools to help your business reach the right people during these crazy times, or any times for that matter! A songwriter and entrepreneur from Chicago, a web designer from Lithuania, a graphic designer from Columbia, and a writer from Austin, Texas, Dremana Productions also prides ourselves on the diversity and knowledge areas of our staff. While we love working with locals, we aren't limited to clients in the central Texas region, our clients come from all over the states, Mexico, and Canada!
Interested in letting us help your businesses growth? Contact us via our website, or call us at 877-753-1170.