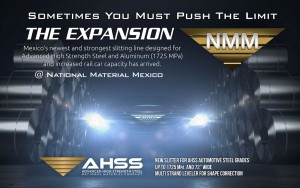 Steel service center National Material of Mexico hosted a Hollywood-style open house event on November 28th, 2017 to show customers, suppliers, and government leaders the outcome of their latest project that is expected to create 50 jobs. According to Carl Grobien, Vice President and General Manager, "To meet the demands of customers requiring advanced high-strength steels, we needed to make this investment. We decided to increase slitting capacity and improve our process for unloading and handling shipments to become more efficient and responsive to our customers' needs. To make room for the slitter, we moved our existing office space to a brand new modern office building. These are very exciting times for our company that will benefit our customers."
Among the distinguished speakers at the event, we heard from:
Mr. Michael Tang, CEO of National Material LP

Ms. Carlota Vargas Garza, Federal Delegate of the Secretary of Commerce in the State of Nuevo Leon, representing Mr. Ildefonso Guajardo Villarreal Secretary of Commerce Mexico

Mr. Samuel Peña Guzmán, Under-Secretary of Investment and Industrial Development of the Ministry of Economy and Labor, in representation of the Governor of the State of Nuevo Leon Mr. Jaime Rodriguez Calderon as well as in representation of Mr. Fernando Turner Davila, Secretary of Economy and Labor of the State of Nuevo Leon

Mr. Oscar Cantú Garcia, Municipal President of Apodaca

People also in Presidium but not giving speeches:

Mr. Jesus Gonzalez Cardenas, Secretary General of the Executive National Committee of the National Federation of Independent Union

Mr. Eric Olson, Commercial Consul of the U.S. Consulate in Monterrey

Mrs. Lupina De Ezkauriatza, Executive Director of American Chamber of Commerce Monterrey Chapter  
See full article & more information on National Material's website.