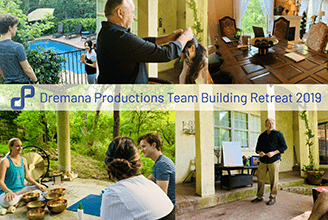 The reason we have team building retreats and events? If there's one thing we've learned over the years, it's that team members are customers, too. We understand that having a successful career makes us happy. But being happy is what makes us successful at our careers. As The Working Mom Manifesto goes, "You will never be truly satisfied by work until you are satisfied by life." We work hard at giving the Dremana team room to have a healthy work/life balance that also includes each other so we can build a strong foundation of friendship and trust.
Our 2019 retreat included a day with Dr.Bob Beare from Creative Life Institute, an evening with Maggie Weisenberger, LCSW-S, RYT  from Wise Zen Therapy, and plenty of good food and absurd games that we can't tell you, or we'd have to, ya know….
What happens at the team building retreat stays at the team building retreat!